CAMP MARY ANNE - BLT 1924
LAKE MANITOU, MANITOULIN ISLAND
MINDEMOYA, ONTARIO, CANADA
GENERAL BACKGROUND INFORMATION
Born: September 17, 1865, Peru, Indiana. Son of Joseph Caledon Clark and Charlotte Ann (Ward) Clark. Educated public schools Kingston, Ont., Canada. NOTE: Clark's education is unverified. Various reports include his being home schooled by his father. It would seem his formal education was "meager" as one report stated.
Numererous reports state he started out painting signs and barns, work in a shipbuilding concern, learned complex carpentry and special painting skills, along with some basic photography. With this background young clark travelled to New York City finding work with Lafayette W. Seavey. Seavey is generally believed to be the individual who fulfilled the demand for theater, photography and artists back-ground sets as a large-mail order company. Prior to that time most artistic scenery was painted on location by itinerant artisans. Seavey's operation allowed different venues to choose from a cataloge of hundreds of pre-painted sets. It was apparently this area that Clark's artistic bent was nourished as both painter and prop builder (often papier mache stumps, trees, objects used in various artistic tableaus)as well as catalogue photographer.
Again, according to various reports, Clark then proceeded to work in the studio of legendary lithographer/photographer
Napoleon Sarony (1821-1896
). Sarony, also a friend of Seavey, began his career as a lithographer and after a time with Nathaniel Currier (of Currier & Ives fame), created his own firm of Sarony & Major, eventually becoming Sarony, Major & Knapp. That entire string of business assocations running from 1843 to 1867. Sarony then entered the market as a photographer and eventually became the best known portrait/celebrity photographer in the country. Clark also mentions of having spent time with another New York City celebrity photographer, Jose Maria Mora (1849- ?) also a protegee of Sarony, who opened his own very successful studio in 1870. Another report mentioned that Clark spent some time studying at the Cooper Union in NYC.
NOTE: Scattered throughout other magazine articles are reports of Clark having worked with- or for - two other photographers: J.M. Brainard of Rome, NY and W.T. Richardson, and Englishman who worked in New York city in the early 1880's.
The timeline for these associations is not specific in any of the published reports. But it would seem likely the Clark went to NYC sometime in the late 1870's or early 1880's. Apparently working first for Seavey, then Sarony (one report even states that Sarony actually hired young Clark away from Seavey, Sarony being a frequent visitor and close friend of Seavey). I would suspect his time with Mora was most likely last, and probably brief. After leaving NYC Clark apparently went to Oneida, NY, where he operated as a photographer from at least 1887-88 through 1890-91 according to city directories. In 1892 he moves to Detroit, often quoted as a hard date. He was, according to a family member, invited to join the studio of a Mr. Huntington, an established Detroit photographer; there is an extant example of a cabinet card bearing the business logo of
"
Huntington & Clark
". The two first appear in the city directory in 1894. That lasts 9 years. Clark then sets off on his own a few blocks north at 654 Woodward, staying there at least until 1912. From here he moves to the Cass-Putnam corner staying there the rest of his life.
FAMILY- All children by first marriage.
First marriage- Mary (Lewis) Clark -Mary Lewis was from a family in Oneida, N.Y. According to a family member, Frank Scott Clark was working as a photographer in nearby rome, N.Y. and that is where the two met and were married in Rome (or Onieda) date is uncertain as yet. Their first child was Florence, born 1889.
Then Edith Ethelyn, (date uncertain) then Frank Scott Clark Jr.(1892,93-1979) The children (now married) were noted in Clark's obit of 1937 as:Mrs.Frank(Florence) Kirby, Mrs. Norman(Edith) R. Langley, and Frank Scott Clark Jr. & -five grandchildren. "All of Detroit". Clark divorced his first wife in 1905 or 06.
Notes on F.S. Clark Jr. obit, Mar 11, 1979-(1892-93-1979)"he died Friday".
Buried Forest Lawn Cemetery.
Children were Frank S.(ClarkIII) (1912-1998) & Hugh S.(d. 2001)
F.S. Clark Jr. was commerical artist with S.S. Kresge Co for 40yrs.-.Detroit Free Press obit-3-11-79.
FSC's second marriage was to Mary Louise Foster in 1908, in Louisville, Ky. Mary Foster was born in Louisville but raised in Detroit along with her sister Annie Ward Foster. Mary Foster's father was from a prominent early settler family of Battle Creek, Michigan. "the sisters and their mother were social arbiters of Detroit society for three generations through contacts formed in the mother's famous dancing class." (Detroit News Obit of Mary Foster Clark, Nov.20, 1946)
PROFESSIONAL PHOTOGRAPHERS

MEETING IN CHICAGO. CA. 1915-19.

L- M.J. STEFFENS, R- H.H. PIERCE

TOP - J.C. STRAUSS, BOTTOM- F.S. CLARK

collection author

(Use your back button to return here)
SOME UNVERIFIED REPORTS

OF AWARDS & EXHIBITS
DETROIT FREE PRESS

SUNDAY, JUNE 29, 1919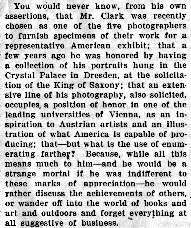 OTHER REPORTED AWARDS

DIAMOND DAGUERRE MEDAL -1909

INTERNATIONAL GOLD MEDAL - 1907

as reported in

"Who's Who

in Professional Portraiture in America"

Copyright 1927

the Able Publishing Co. Cleveland, Ohio
AUTHOR'S NOTES:

ACCORDING TO A LIVING GRANDDAUGHTER,

CLARK HAD VISITED PARIS, FRANCE.

SHE OWNED A PAINTING BROUGHT BACK AS A

GIFT FOR HIS DAUGHTER FLORENCE,

THE WOMAN'S MOTHER. IT IS STILL N THE

FAMILY.




ANOTHER CLARK RELATIVE TOLD ME SHE HAD WHAT SEEMS

TO BE A WATCH FOB WITH THE INITIALS "FSC" DATED 1895.

SHE ALSO THOUGHT THIS ITEM WAS FROM FRANCE.

EXACTLY WHERE THE FOB IS NOW IS UNCLEAR.




I HAVE NOT FOUND ANY ABSOLUTE EVIDENCE

YET OF THE FRENCH TRIP.

THAT DOESN'T MEAN IT DIDN'T HAPPEN.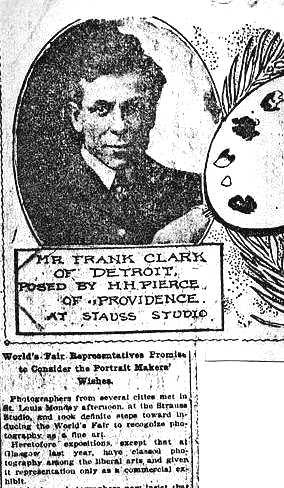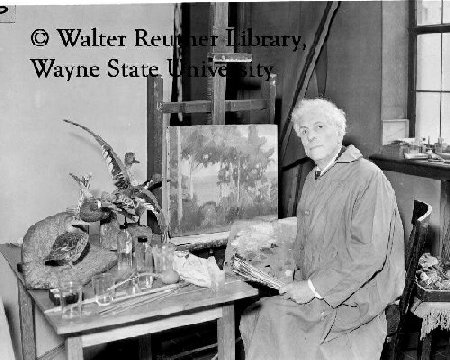 Frank Scott Clark in his studio

as artist, a medium he turned

to more as he grew older.

Detroit News Photo - 1935

Courtesy Walther Reuther

Library Archives, WSU.

FSCLARK BY H.H. PIERCE,

AT MEETING OF PROF.

PHOTOGS IN ST. LOUIS

TO URGE A SPECIAL PLACE

FOR PHOTOGRAPHY AS

ART AT ST. LOUIS WORLD'S

FAIR, 1904..